Hey! Matt and Pat here.
This summer, there's a lot to be excited about. We're emerging from a massive lockdown and the inability to catch up with family and friends. In some areas of Sydney, last year's Christmas celebrations were also restricted.
But don't let the excitement of making this Christmas super special put you in danger. Follow our Christmas and garden lighting tips to keep you, your family and friends safe this summer.
Your health and safety are always important to us so we carefully follow all COVID safety requirements. For your peace of mind, we also offer contactless quoting. Read on to learn how it works.
For all your home, office and 'working from home' wiring needs, call us on 0418 442 578 or email info@kuring.com.au.
Cheers,
Matt Cox & Pat Dobbs
7 Lighting tips to keep you merry and bright this summer
The weather is warming up and the countdown to Christmas has begun. So here are our top 7 lighting tips to make this summer bright, safe and full of Christmas cheer.
1. Always buy Australian compliant lighting
If you are planning DIY festoon lighting for your patio or buying new Christmas lights, make sure they have the Australian Standards Compliance Symbol or an approval number e.g. N12345. You will usually find this information on the power cord near the plug.
To ensure they are compliant, always purchase your lights from a reputable retailer. You may pay a bit more but it means your lights should be safer for your family.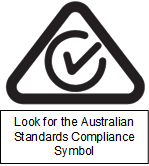 2. Lighting your alfresco areas
It's wonderful to entertain outdoors on balmy evenings so if you have an alfresco area, take a look around at night. Is it as well-lit as you would like? Can you see what you are doing at the barbeque or around your sitting/dining area? If the answer is no, get in touch with us and we will plan and install ambient and task lighting to make the most of your alfresco entertainment area.
3. Cool your patio
Sometimes heat can be trapped under your patio area so if you have a ceiling, we can install a ceiling fan to ensure summer entertaining always includes a cooling breeze. If mosquitos are a problem in your garden, operating your ceiling fans can help reduce numbers.
If you are keen to install a ceiling fan in your enclosed patio or deck, check the height first. There must be at least a 2.4m clearance between the ground and the blades.
4. Always do a safety check before arranging Christmas lights on your tree
Before arranging the lights on your Christmas tree, check them first. Look for things like:
Damaged or missing globes
Loose plugs
Exposed wires
It's also important to check your Christmas lights are working before you place them on the tree. If your tree comes with integrated lighting, check it works before you add the decorations and ensure your tree illuminates uniformly.
5. Using a living Christmas tree?
If you are transforming a living tree into a Christmas tree this year or even using a fresh Christmas tree, ensure you turn off the power and unplug your Christmas lights BEFORE watering.
6. Decorating your home with external Christmas lights
It might sound obvious, but always check the Christmas lights you use outside are designed for outdoors. If it is stormy or raining, don't turn them on. It's not worth the risk to your home and your family.
We always recommend using low voltage LED lights outside and especially when decorating your home with Christmas lights. NEVER go to bed with your Christmas lights on – even your outdoor ones. It's just not worth the risk.
7. Outdoor powerpoints
Instead of running extension cords throughout your home and garden, ask us to install outdoor powerpoints for your alfresco areas and additional indoor powerpoints wherever you need them. In most cases, it's very cost effective and removes the risk of tripping over extension cords.
Two final safety tips …
If any of your outdoor or Christmas lights trip your safety switch, DON'T USE THEM! Either replace them or ask us to take a look.
If you must use an extension cord, make sure you completely unwind it to avoid overheating.
If you have a busy life remember, we can quote on-the-spot and do the work in the one visit.
For help with any of your electrical requirements, call us on 0418 442 578 or email info@kuring.com.au. The lead-up to Christmas is a busy time for us so don't delay if you would like some electrical work done around your home before Christmas.