Strategic Smoke Alarm Placement for Maximum Home Safety in NSW
Of Australia's 17,000 annual domestic fires,
38.2% happen in NSW
. Residential smoke alarm systems can keep the home's inhabitants and guests one step ahead of fire emergencies, averting damage to life and property.
Having smoke alarms around the house solves just one part of the problem. The key to their effectiveness for your safety is strategic installation. Picking the ideal number of smoke alarms and fixing them in suitable locations ensures maximum coverage and sharp detection. 
Here is everything you need to know about domestic smoke alarm placement.
Legal Requirements for Home Smoke Alarm Installation in NSW
Let's acquaint you with the rules on smoke alarm installation.
If you fail to meet the-se legal requirements as a homeowner or a landlord, you will be held accountable for a violation. As a result, you will incur a penalty of up to
$550
.
What NSW Homes Require Smoke Alarms? 
NSW homes come in all varieties, and all of them, from apartments to camper vans, legally require smoke alarms.
Stay on the right side of the law and err on the side of caution by outfitting your dwelling with high-quality smoke alarms.
Identifying High-Risk Areas in Your Home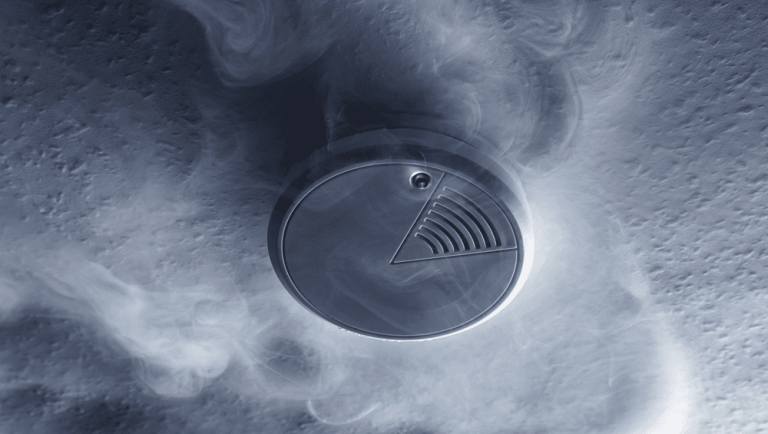 High-risk areas are those places in your home with a greater fire risk. As a rule of thumb, rooms with cooking appliances, fireplaces, space heaters, and other heat-producing devices or flammable materials are susceptible areas.
To confirm that an area is high-risk, ask yourself these questions:
Optimal Smoke Alarm Placement Guidelines
Don't let the cost of smoke alarm installation or the number of smoke alarms required give you second thoughts. There are higher prices to pay in the event of a fire. Solid reasons exist for equipping every room and level of your home with at least one smoke alarm.
Family members sleep and spend copious amounts of time in their bedrooms. If you are asleep, you may not be fully alert, which is why you need a smoke alarm to wake you up promptly. You might hate the alarm that wakes you up in the morning, but your smoke alarm is the alarm you will thank for getting you and your family out of bed, whether during your afternoon siesta or at three in the morning.
50% of the 1,230 winter fires
attended by Fire + Rescue NSW originate in the kitchen, most due to unsupervised cooking. Open flames and cooking appliances make your kitchen a vulnerable area. Place a smoke alarm near your kitchen to detect cooking-related fires early. Minimising the distance of the alarm from the source reduces the chances of false alarms.
On Every Level of the Home
Installing smoke alarms on every level of your home is a critical life-saving measure. Fires escalate swiftly, and toxic smoke spreads even faster. These alarms provide early warnings, offering precious time for escape. Notably, Australian law mandates their placement on every level of the home. By safeguarding your loved ones and abiding by regulations, you ensure their safety without any room for compromise.
If your home has multiple bedrooms located along the same hallway, placing smoke alarms outside the bedrooms is essential. If the alarm detects smoke or fire in the hallway, everyone can snap awake and evacuate before the fire engulfs their bedrooms.
You spend a good deal of your waking hours in your living room—watching television, working, having family meetings, or entertaining guests. As a high-traffic area of your home, your living room deserves a dedicated smoke alarm.
Hallways are critical escape routes during domestic fire-related emergencies, especially if your house has many rooms or more than one storey. Hallway smoke detectors pick up on smoke and fire that may originate from any room or floor.
Near the Furnace or Water Heater
Malfunctioning and improperly maintained furnaces and water heaters pose serious fire hazards. Therefore, you should never skip installing smoke alarms in these utility areas.
You might question the logic of putting a smoke alarm in your basement because it is not a high-traffic area of your home. Be that as it may, these concealed spaces often contain electrical panels, heaters, and other fire hazards, making them top candidates for alarm installation.
Flammable materials, fuels, and vehicles make your garage a hotspot for fire emergencies. Like basements, garages are not the most conducive places for individuals and families to pass their time. Low traffic and occupation are ample reasons to outfit your garage with a smoke alarm, which will detect fire or fumes.
Maintaining and Testing Smoke Alarms
An alarm that does not go off when it should is dangerous, and an alarm that goes off when it should not is a nuisance. While there are certain low-risk maintenance activities you can perform yourself, others can be done only by a licensed electrician. When in doubt, contact a reputed electrical company for advice.
Interconnected Smoke Alarm Systems
Interconnected smoke alarm systems communicate with one another wirelessly or through wiring connections. When one alarm detects smoke or fire, it dispatches a signal to trigger all interconnected alarms in your home simultaneously. Interconnected alarm systems do not give you information about the location of the fire; they only notify you that smoke or fire has been detected somewhere in the house.